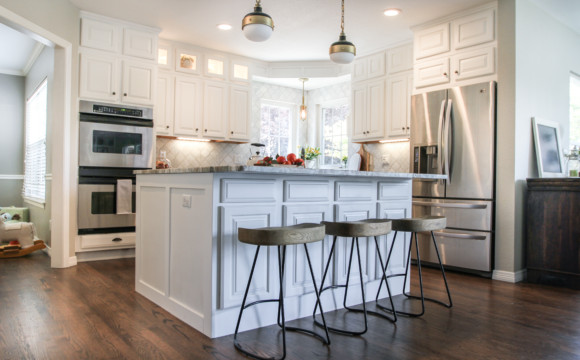 Happy Summer! Here in Colorado we completely skipped over the spring and any sort of gentle introduction to summer. Full on highs in the 90's and AC working overtime.  What better way to celebrate the hot weather than show you a really cool kitchen?  This space turned out so amazingly good if I do say so myself! And if you don't like this kitchen after seeing the makeover then I'm guessing you also don't like puppies, or cupcakes, which makes me wonder if you like cilantro (gross!)? Anyways, here's a quick back story about this kitchen. Through my work at Everitt and Schilling I have taken on some clients which I am doing design work for. This couple was one of those clients. They were purchasing a house with a great backyard, a family friendly neighborhood, that had good bones but was filled with builder basic finishes from the 90's. They had a long list of items they wanted to see done in the house before they moved in, which only gave us about 3 weeks to get everything done. I'll cut to the chase and let you know that we didn't finish in 3 weeks- I've got nowhere near enough super powers to make that happen! And next week I'll be back to give you a recap of things that went as planned and unforeseen problems that occurred during the remodel. But today let's just take in this stunning transformation!
Here are a few pictures of the space before any work began: 
Things this kitchen had going for it included a large enough island for the couples' three kids to sit at, cabinets that weren't oak so they would be improved dramatically by painting, and a sink with two windows looking out onto the very lush backyard. Things that could have been improved:
1. That soffit was just so darn imposing on the space. I now know why that soffit was there but when first looking at the kitchen I couldn't get past how much of the room was soffit vs. actual cabinets. It just made the whole space feel closed in with a low ceiling.
2. The cabinets, the floors, the wall color! All so close in color, creating a burnt orange cave. The whole space needed to be lightened up.
3. Granite tile countertops. Sure they are granite which is nice, but there is also grout sucking up bacteria and letting it breed all over the space where food touches. Not hygienic and not sad to see it go.
4. The desk area in the kitchen wasn't something the couple ever saw themselves using. Two options were presented for that space- 1) a bar area or 2) add a large pantry cabinet. When we saw that the sellers were actually storing food in a closet in the basement the light went off that perhaps storage in the kitchen wasn't enough. Sure enough we took a closer look at that pantry cabinet already in place and saw that half of the cabinet was super shallow, probably because duct work or something was running behind it. The decision was easy to make then that another pantry cabinet was needed to keep food storage in the kitchen. *lesson- when looking at houses that you want to buy, take note of how the family lives in the space. You can find out what their struggles with the space are by just looking at the quirky ways they come up with to deal with those problems.*
The idea I had for the space was a farmhouse inspired kitchen with white cabinets, wood tones to warm up the space, and bronze hardware. Gold accents would also be brought in to bring a touch of glamour along with a seriously gorgeous marble backsplash. I posted the mood board in this post and here's what I put together for the clients (for sources on items in mood board click back to the original post):
And yes, those stools and lights are the same ones I have in my kitchen. Part of the reason this project was so fun to work on was that the clients really loved my style. Jobs are much easier when you share the same tastes as your clients. I had different lights picked for their kitchen but they saw the lights in my kitchen and insisted on those. And I'm glad they did because they look so good! And these bar stools from Restoration Hardware are just one of my favorite stools. The wood is a great color and they are actually really comfortable. I'll put those in everyone's house if given the chance!
Putting this kitchen plan into place did take quite a few demo/renovating steps including:
1. Soffits were knocked down
2. Two can lights above island and one above sink were converted to fixtures
3. Granite countertops on perimeter and island were demo'ed and replaced with slabs
4. New kitchen sink
5. Upper cabinets built and placed where soffit once lived
6. Desk area demo'ed and a new pantry cabinet was built for that space
7. Old backsplash removed and new backsplash installed and carried up to the ceiling around the sink. **If budget allows- ALWAYS take that tile up to the ceiling!!**
8. All cabinets were sprayed with white paint
9. Microwave was removed from above the stove (it was clearly never meant to be there, as only very tall people could reach it). Microwave was relocated into the new pantry cabinet
10. Throughout the whole house the oak floors were refinished with a dark stain
Ten easey peasey steps and here's what was achieved:
And all good transformation posts should give you a before and after shot to really appreciate the changes.
How good is that? What do you guys think? I absolutely love this kitchen! And the homeowners do as well. There were a lot of times that I think both the clients and myself were wondering if it would come together but I am so happy that it came together in such a beautiful way. I'll be back next week to share some of the hiccups we encountered along the way in this kitchen transformation. And I've got more to share from this house over the next couple of weeks that you won't want to miss!