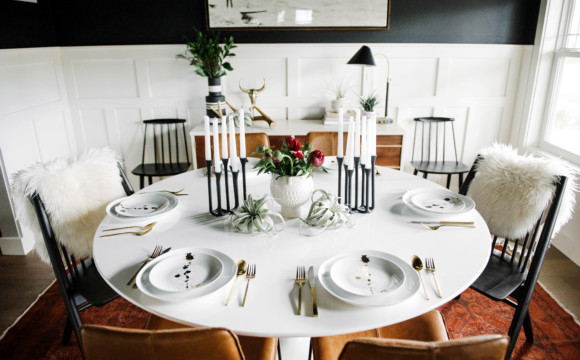 Alright folks, we've made it across the finish line. Today the 6 week challenge of making over one room is complete! A huge thanks to Linda of Calling It Home for creating this home makeover challenge. Once again participating in this One Room Challenge not only left me with a beautiful space to enjoy with my friends and family, but also led me to find new bloggers who I am excited to follow and find inspiration from. Yesterday the 20 invited designers revealed the fruits of their 6 week labor, and man there are some beautiful and well-designed spaces! I'll do a big ol' roundup of my favorites from the Spring 2016 One Room Challenge so come back next week to check that out.
But today I'm here to show you my revamped dining room! I'm affectionally calling this the Back in Black Dining Room, not because it was ever black but because I want you all to crank up the AC/DC and jam out to this space. Let's not get ahead of ourselves though. We need to start at the beginning to appreciate the changes made in this room. Here's the dining room before it went to the dark side:
The room wasn't horrible to begin with. In fact, at one point I was pretty pleased with this room. Almost every piece of furniture in the room I got for dirt cheap and then refinished myself. These were some of the first pieces that I tried stripping and refinishing the wood on. But after a while the room felt flat and the style didn't completely work with what I had done in the rest of the house. So why not make over the room in six weeks?
Here was the initial plan I put together for the room. I had already painted my office, which is directly across from the dining room, Tricorn Black by Sherwin Williams. Painting the dining room black seemed like a natural choice as it would compliment the office. And with the white wainscoting already in the room I knew that black would be a great contrast color. Because black and white will always look good together!
In the past year or so I have learned one thing about my decorating style- I really like neutrals. As much as I have tried to bring colors into rooms, I always end up regretting it. Case in point, those golden yellow curtains in the dining room that I painstakingly made by hand. Yep, lined them and added grommets to the top which was a really big deal for this sewing novice. But after all that work I grew tired of them because it was just too much pattern and color for my liking. I can't commit to colors and now I'm ok with that. I have learned that when decorating with neutrals you really have to include a lot of textures in a room so that you still have visually interesting things to make the eye travel around the room. And textures I'm cool with. In fact, I really love textures. For this room some of the textures I used were matte black walls, leather, wood, sheepskin, wool, leaves, airplants, lacquer, and brass.
Regarding furniture for this space, I could have easily used the dining set that was already in the room. But for years now I've wanted a white tulip table somewhere in my house. In fact a couple of years ago I bought a vintage knock-off tulip table on eBay because at the time it was terribly hard to find knock-off's that had 60" tops. Sad story short, I got totally scammed by the shipping company and never received the tulip table I bought on eBay. I put my tulip table dreams aside for a while, because losing that eBay tulip table was actually a good thing as it changed some of the design plans I had for my kitchen which lead to a much better space. BUT- recently I had been seeing a 60" knock-off tulip table pop up on some blog posts. So I clicked over to Lexmod and there I was happy to find a 60" table that was being sold for a very reasonable price. Reasonable enough to switch out my current dining set for this tulip table.
Let's take a moment to talk about the star of the room- that vintage overdyed rug! Vintage Turkish rugs are super on-trend right now and I was all about jumping on that trend. I soon found that tracking down a rug that was not only long but also wide is a bit of a challenge. Many of these Turkish rugs are long and narrow, more like a runner than the large area rug that I needed to set the table and chairs on. Luckily one day on Instagram I saw Oh Fox Creative post a picture of a beautiful vintage rug that was large enough to fit my room! It's always a bit risky buying a rug and not being sure what the true color of it will be, but I was so pleased when this rug came and I saw the deep orange-red color in the rug. I just love how it pairs with the black and brown dining chairs!
And those Jonathan Adler gold splatter plates were a happy splurge to bring a little glam to this tablescape.
Of course my peonies were being ultra stubborn and refused to open up despite me trying several tricks I found on the internet. Can't you just imagine how great they would have looked all opened up in their majestic crimson glory! But when peonies fail you there's always air plants jumping in to save the day.
One of the major changes in this room was switching out the light fixtures. The room had 4 wall sconces and one chandelier over the table. Plenty of light for one little old dining room. But hey, a girl can never have too many shoes or too many light fixtures- right? Above the table I went with two large pendants from Rejuvenation. These guys are simple in shape but I just love the black and white cord and brass accents. I have to say though, if I only had these two lights in the room it wouldn't be enough. They really don't put out much light with each fixture only holding one light bulb. For the 4 sconces in the room I went with the Madonna sconces from Triple Seven Home. This was the first time I ordered from Triple Seven Home and I was very impressed with the quality of the lights and also the customer service. My emails were answered within minutes! And you guys, these sconces are really, really great. I love the top and down spotlight effect they have and the gold finish is not too shiny, not too matte.
With this room, there isn't a lot of room for art. There is really only one place to make a statement with art, and that spot is above the buffet. I wanted to go with a large piece here to really make an impact. This large vintage photograph of surfers isn't too busy and the balance of the white background with the black subject matter is in balance for the size of this piece and helping it pop off the black background. It is hard to tell in photographs but adding a layer of Art Resin to this photograph printed on canvas gives a shiny finish to contrast even further against the matte black walls.
And with that I'm calling this room finished! Time to have some friends over for dinner in our "fancy room" as my kids like to call it. Don't forget to go check out the rest of the reveals from the 20 invited designers and the linking participants! Tomorrow Tricia will be revealing her master bedroom which turned out so beautiful!
**All photos courtesy of Kelli Kroneberger**
Sources:
White dining table | Leather Dining Chairs | Black Dining Chairs (no longer available) | White Dinner Plates | Gold Splatter Plates | Gold Silverware | White Face Vase | Black Candleholders (Target, no longer available) | Airplants | Vintage Rug | Wood Mirror | Gold Sconces | White Pendant Lights | Surfer Artwork | Large Artwork Frame | Black and White Vase | Black Table Lamp | White Planters | Gold Steer Head | White Cat Vase (West Elm, not available online) | Small White Vase | Buffalo Print