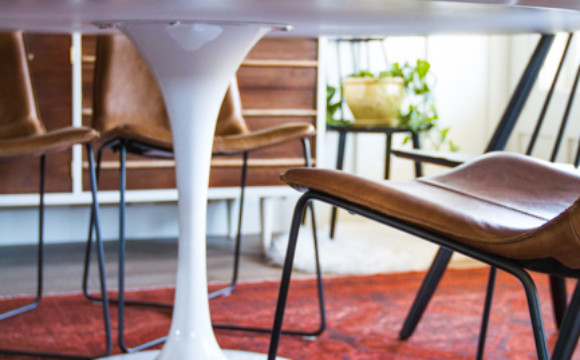 The final push is here. Today we are at the Week 5 point of the One Room Challenge. Which means that next week is REVEAL DAY!!!! And...just in case your stopping by for the first time- catch up on Week 1, 2, 3, and 4. I'm taking my very unused dining room from a thrift store showroom to dark and full of contrast and texture.
I can't wait to have this room photographed by the amazing Kelli Kroneberger. Which is happening next Tuesday. And that might have meant some last minute accessory shopping yesterday along with overnight shipping charges. Styling is always the hardest part of a room for me. It's a fine balance between too much stuff and just the right pieces. One of the items I decided to splurge on for styling were the Jonathan Adler dessert plates! You guys were so good at justifying these #deadmomgoods (read here to understand that hashtag). And since Mother's Day is the weekend, and my husband is working all weekend, I went ahead and did some shopping for him. They are so beautiful in person. I couldn't have done them justice with a DIY. The gold is just so sparkly! And this picture is horrible.
All the furniture has arrived! I'm mixing these chairs and these (ugh! discontinued already!) around the tulip table.
This week I also finally got my large art piece framed! This proved to be a bit more of a challenge than I was planning. Since the art was so large, ordering a pre-made floating frame was going to incur over $200 in shipping charges. So instead I ordered the pieces of the frame shipped loosely and then had to stain the wood and attach the 4 sides to each other. The stain color ended up being darker than I wanted so it gets a bit lost against the black wall. Oh well, live and learn.
That wraps up week 5 for me. Tomorrow Tricia will share the progress she has made on her Boho Chic Chinoisserie Bedroom. And don't forget to check in on the 20 invited designers and linking participants in this round of the One Room Challenge.